You will learn how ticket sales for your event are conducted. Let's go!
The ticket sales can be carried out through the Fourvenues website using a link like www.fourvenues.com/maze-group/, or you also have the option to integrate the purchasing process into your own website using an iframe.
To access the link to your event from the PRO account, click on the event from the calendar. Two links will appear on the right; one will be linked to your user and the other to the business.
From this link, you will see the information and online sales services that your business offers for this event, where customers can independently begin the purchase process.
First, they will select the product they wish to purchase, in this case, the "early bird ticket," where they can check both the ticket price and handling fees. Then, they will indicate the number of tickets they want to purchase and click "continue" to enter the required details for each attendee. If previously configured, they will also see the question you decided to ask attendees. Once completed, the customer will initiate the payment process.
Currently, payment methods can be made using Google Pay and Credit Cards. They will also have the option to change their purchase location if they are foreign customers, displaying common payment methods in that country.
For example, if they choose the Netherlands, a new payment method will appear: "iDEAL," a very common payment method in the Netherlands. Upon completing the payment process, the customer will not only be directed to the ticket download page but will also receive a purchase confirmation email and the PDF will automatically download in the browser.
Additionally, the customer can access "My Tickets" from their device, where they will find their tickets.
The received QR can be checked in with our app 'Fourvenues Access.' It's important to note that granting 'reception permissions' in your business management is necessary for checking at the entrance. To manage user permissions for your business, go to Settings > Permissions.
You can also modify the design of the PDF for all your services from Settings > PDF templates.
Once the ticket is validated, from your business calendar, you'll be able to see the number of customers who have entered and how many are yet to come.
That concludes the ticket sales management. In the next chapter, we'll configure passes for our business.
YOUR OPINION MATTERS TO US
Have we resolved your doubts?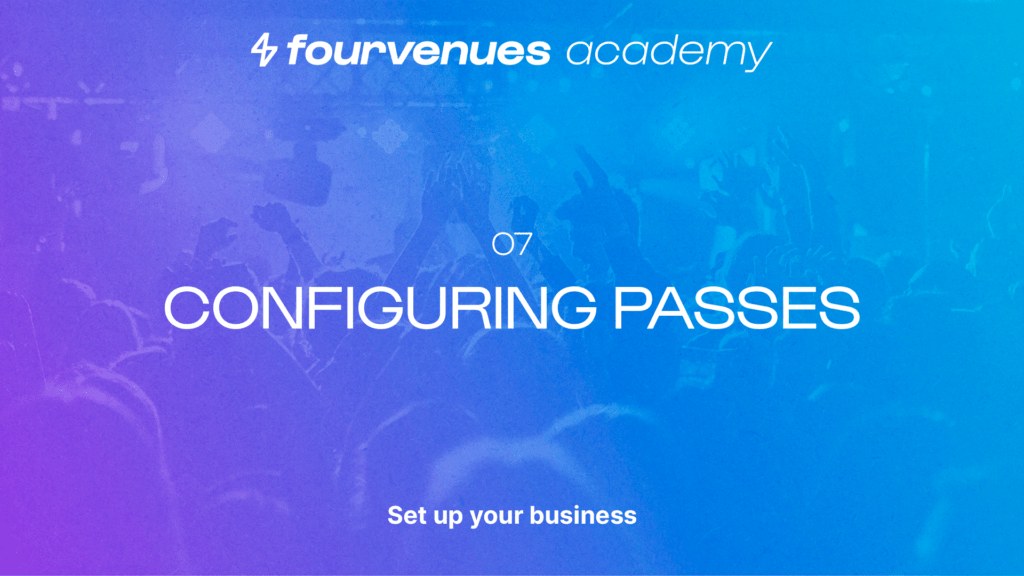 Continue with chapter 7 to complete the 'Configure Your Event' module!